What is TOKYO SUNDUBU? -
Sundubu is a type of Korean stew featuring tofu cooked with a variety of ingredients such as vegetables, meat and seafood.
The dish gained popularity after a restaurant specializing in Sundubu opened in Los Angeles by a Korean immigrant. Its success led to more Sundubu specialty restaurants opening in cities like New York.
Tokyo Sundubu aims to incorporate this dish into the Japanese food culture through enhancing the flavors of the soup and ingredients while maintaining its authentic taste.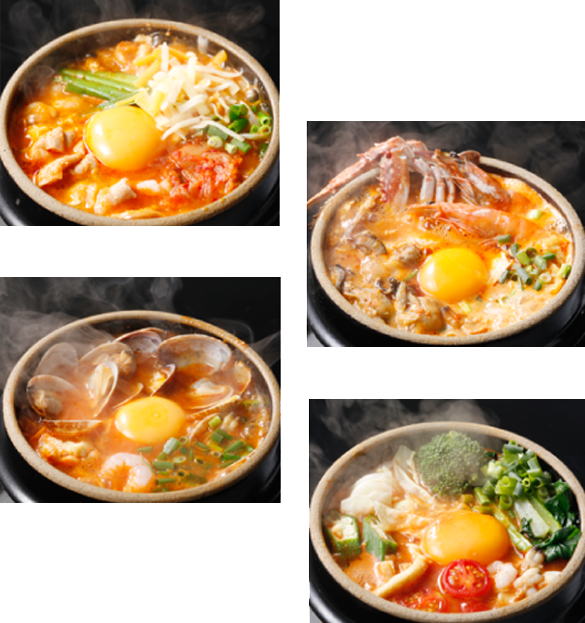 Extensive menu
From meats such as beef or pork, to healthy seafood and vegetables, the extensive menu consists of more than 30 variations of nutritious and collagen-rich Sundubu.
Sundubu is made with silky-soft soy tofu, cooked together with vegetables, meat, or seafood such as shrimps and asari clams, seasoned with red pepper based condiment (Tategi). It is a delicious, healthy and appetizing dish.
Beauty and health concious "sundubu"
Sundubu is good for health and beauty as the high protein, low calorie tofu that is rich in soy isoflavones help support the function of female hormones, Capsaicin from the red pepper based seasoning enhances metabolism, while the collagen-rich soup is great for skin. It is widely said that Korean ladies has beautiful skin and few are fat due to the Capsaicin and Collagen effect.
Letfs get beautiful through delicious food!
September 10 grand opening -
3 Temasek Boulevard, #03-312, Suntec City Mall, Singapore 038983
11am-10pm(last order9.3pm)
contact -
New outlet open in Singapore at end of Jan 2016!!
Suntec City Mall
3 Temasek Boulevard, #03-312, Suntec City Mall, Singapore 038983
contract@tokyo-sundubu-singapore.sg